Director's Welcome
Director's Welcome
Christchurch Art Gallery Te Puna o Waiwhetū is a catalyst for ambitious creativity in Ōtautahi Christchurch, collaborating with artists, and extending the Gallery's influence beyond its walls.
Our focus is on investing in the creation of new work, from its inception through to its potential acquisition, and representing the Gallery's programme in a new integrated way that reflects Christchurch now. Our collection is this city's treasury of art, a pātaka of our history, a rich armoury of images, memories and ideas. It's part of us, and it gets more interesting over time, as works of art connect with us and each other, combining with our histories to enrich us all.
This website builds upon that important concept. Here you can read about current issues in art from our curators and a whole host of other experts, explore our collection and exhibitions, and find great video and audio interviews with artists. It is also the online home of Bulletin magazine, or B. – a place for ideas, experiments, opinions. This magazine-like approach puts our writing, and our thinking, at the forefront of the visitor experience. Built upon principles of generosity, it is a library of these ideas, there for anyone to see and use, dispute and contest.
I'm incredibly proud of what this Gallery has achieved over our 'earthquake years' – but even more excited about our future. Now we want to enable artists to be even more ambitious and adventurous; to help them dream, take risks, and make works that will genuinely engage this city's people and its visitors with the rich contemporary practice of our times. Together we'll foster art in our city, from emerging artists to established stars. My mission as director is to commission new works in a way that invests directly in the growth of the arts in Ōtautahi Christchurch and Aotearoa New Zealand. Our collection will continue to grow, aligning with our new ambitious programme and artist's projects.
It's time to think about art in our city in a whole new way. Let's look to the future and focus on the creators and the makers. Together, we can make Ōtautahi Christchurch renowned for its creative spirit and unstoppable imagination.
Notes by Blair Jackson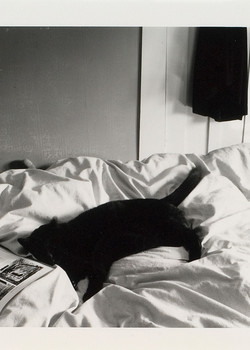 Update from director Blair Jackson
1 April 2020 , Blair Jackson
Kia ora koutou. Hello.
I want to let our supporters and art lovers know what we are doing in these difficult times, and how you can still find moments of relief and escape through art. Like much of the world, Christchurch Art Gallery Te Puna o Waiwhetū is temporarily closed to our visitors and our staff. Like many of you are experiencing in your own lives, we've needed to figure out new ways of working, staying connected as a team, and working out what we can offer and ways that might help us to engage, inspire and connect you with great art and ideas.