Director's Foreword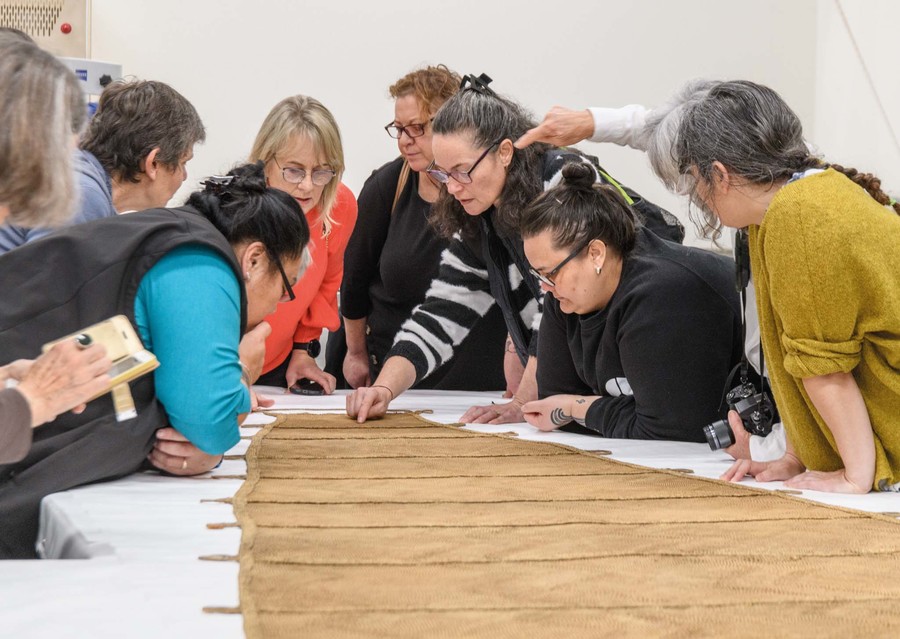 Welcome to the spring edition of Bulletin. As I write, Te Rā: The Māori Sail has been with us at Te Puna o Waiwhetū for three weeks, and its presence continues to fill our building and hearts with a sense of warmth and wonder. It has been truly an honour to spend time with Te Rā, whose arrival and welcome was an incredibly important moment for Aotearoa. I felt very privileged to have experienced some of the excitement, joy and knowledge shared by so many during the wānanga and the opening weekend.
We have been fortunate to work with the wonderful Ariana Tikao and Mat Tait, to produce a very special commemorative publication that celebrates the homecoming of Te Rā. Lyrically written by Ariana and beautifully illustrated by Mat, this little book imagines the story of Te Rā – from its beginnings as harakeke, harvested and woven by many hands; to its voyaging along coastlines and across waterways; its experience as a taonga taken to another land far from home; and finally the moment Te Rā was brought back into the light. The billowing sail raised up again.
The return of Te Rā and development of this exhibition has been a huge project for the Gallery team, made possible through close collaboration with numerous experts from Aotearoa, Australia and England. In this issue of Bulletin we feature a short photographic essay that documents the work that went into the installation, and some of the people that made it happen. Donna Campbell, who is part of the research group that brought Te Rā to Aotearoa, writes movingly about when she first experienced Te Rā in a storeroom at the British Museum in 2014.
Elsewhere in the Gallery, Robin White: Te Whanaketanga | Something Is Happening Here is a major survey of the career of one of Aotearoa's most-loved artists. Including more than fifty works that form what Robin White (Ngāti Awa, Pākehā) describes as a "family reunion", the exhibition was jointly developed by Auckland Art Gallery Toi o Tāmaki and Te Papa Tongarewa, and we are very pleased to be able to host it here in Ōtautahi.
Another moment to celebrate this season is the extraordinary gift of fifty-seven works by thirty-two contemporary Pacific artists from the private collection of writer, researcher and lecturer Karen Stevenson. We are indebted to her for this gift, which significantly enriches our collection and will benefit future exhibitions and audiences. Formerly a lecturer in art history at the University of Canterbury's School of Fine Arts, here Karen tells our lead curator Felicity Milburn just what the gift means to her.
Our Māori material culture and our place in the Pacific means that there are textile treasures in many homes. From kete and tivaevae to tapa and hiapo, how do you care for textile-based artworks in a domestic setting? Bulletin asked several experts for their tips and advice. We also hear from artist Maureen Lander, who with her daughter Kerry is working on a project to digitise her archive. Maureen's exhibition Aho Marama Strings of Light lets us look back in time, reimagining her pivotal 1998 installation String Games, and celebrates a stunning new addition to our collection, Wai o te Marama.
We look ahead to a major transformation of our ground-floor spaces with an ambitious contemporary exhibition that takes the pulse of the Aotearoa arts scene, with Spring Time is Heart-break: Contemporary Art in Aotearoa. For Bulletin, curatorial assistant Jane Wallace talked to five of the artists involved in the show. Heidi Brickell, Priscilla Rose Howe, Lucy Meyle, Steven Junil Park and John Harris offer glimpses into their studios and practices as they work towards the exhibition.
In Flitting, Gliding, Strutting, Cavorting, curator Ken Hall looks at a previously unpublished folio of delicate watercolours of Indian birds. Painted around 1826 by Elizabeth D'Oyly, with some works co-created by her husband Charles, this charming group of works has come to us on loan from the artists' family and is on display in Out of Time, which opens in September.
Our Pagework comes from Fijian-born artist Natasha Ratuva, whose hand-painted masi works celebrate the connections between Pasifika and Māori culture. My Favourite is a sweet and moving reminiscence from the Gallery's longtime cleaner Amanda Gillard, who selects a stained-glass window salvaged from an earthquake-damaged church on Barbadoes Street.
Lastly, on 1 August 2023, we celebrated a very significant moment. Thanks to the generosity of the Christchurch Art Gallery Foundation's TOGETHER partners, we have achieved an incredible milestone – our collection development endowment fund has now reached its original $5 million target. The support of many generous donors has made this possible, and we are truly grateful for their vision and commitment.
Reaching the $5 million mark means we are in a fantastic position to spend future income on significant acquisitions for the collection. This is an extraordinary moment for the Gallery and Foundation. We thank everyone who has played a part in creating such an incredible legacy for the city and people of Ōtautahi Christchurch. Of course, our fundraising ambitions are certainly not over! We look forward to a new programme of activities and fundraising events that will support the Gallery to ensure we continue to offer an ambitious and dynamic programme for Ōtautahi.