James Powell and Sons: St Mary Magdalene and Mary Mother of James at the Empty Tomb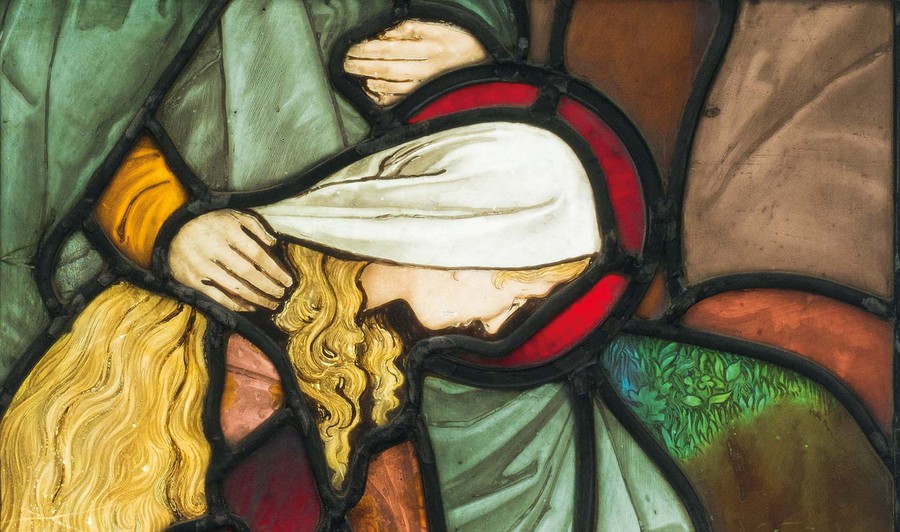 You may be wondering why I chose this piece of art as my favourite. Perhaps you think it's for the craftsmanship of the stained glass. Or maybe I've lost someone, and the artwork brings me comfort. But you'd be wrong. This piece of art, which was rescued from the Barbadoes Street Cemetery Chapel, triggers a memory.

When I was a little girl, I spent a lot of time with my granddad. He lived in Ely Street in Christchurch, and his house backed onto the Barbadoes Street Cemetery. It was a special place for our favourite outings.
We would pack up my little red wagon with:
– a blanket,
– Mr Bear,
– Ms Dolly,
– my plastic tea set.
Granddad would bring:
– a flask of sugary, milky tea,
– a handful of cookies,
– a transistor radio,
– TAB forms,
– the cat (sometimes).
At the cemetery I was always allowed to choose our guest. We'd set up our mini picnic on the side of their grave (we never sit on our guest) and I would use my very poshest voice and longest vowels to make the introductions.
After the formal part of the outing, I'd snuggle into granddad's arms and we'd look at the TAB and decide which horses we liked the best. Granddad went on form; I went on funny names. Sometimes I'd win and he'd beam at me and exclaim, "Good on ya Weedo! If we'd put money on that we'd be rich I tell ya."
While granddad packed up and had a quick ciggy, I would go off on an adventure and try to find the elusive gravestone with the bleeding handprint. I never did find it.
So every time I walk past this stunning piece of art I can almost hear him whisper, in his poshest voice "Come on Weedo, time for a tea party."